Trade fair first aid cover in Hertfordshire, Bedfordshire, Buckinghamshire, Essex, London and Midlands.
Every trade fair organiser knows only too well that the pure success of the event comes down to a recipe.
The right exhibitors with attractive stock at 'buyers' prices and then a constant flow of buyers.
Keeping those buyers on site isn't easy, there needs to be a good mix of other vendors and attractions as well as ancillary services such as first aid cover.
Trade fair event first aid cover not only provides a place for people to go with the odd wasp sting or blister treatment but where first responders can be read to act when there are minor and major incidents.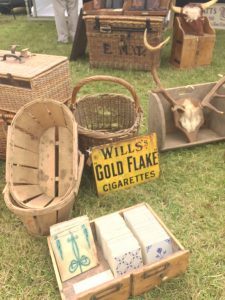 As much as a bar, tea/coffee or food stand will retain visitors on-site, so will event first aid cover.
Even a sting, trip or fall can spoil a family or group's day at an event, an entire party may be forced to leave early because one person has a minor mishap. Yet, with fast early successful treatment, the decision to leave the trade fair could be reversed. The group is happy to stay and continue to spend.
Someone with chest pains, it could be a vendor or a visitor, but chest pains could easily develop into a heart attack or cardiac arrest. A first responder with the right equipment could begin treatment well before someone might have even decided to call an ambulance.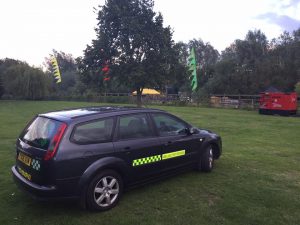 At 1stAiders we don't try and 'upsell' your first aid needs. If your trade fair requires just one first aider, we promise never to try and increase the level of first aid cover to more than you need.
There are elements in some events that require more than one first aider, such as extremely large events and concerts. Extreme sports would often require paramedics and Doctors, a small trade fair may need just one first aider.
An event first aider needs a base, they don't need a fully fitted medical room, just a tent will suffice.
We can supply a well kitted first responder in a response vehicle or a team of event medics in an ambulance.
Whatever your requirements, please call us on 033333 92223 or email on mail@1stAiders.co.uk, we're happy to discuss your event and offer free advice.