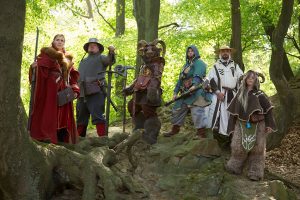 Larping, A live-action role-playing game (LARP) This is a popular and growing type of role-playing entertainment where the participants physically act out their characters' personalities and actions.
The very nature of 'Larping' involves physical contact, often through skirmishes, full-on battles and various rituals.
As much as weapons used are an imitation, it doesn't mean they are harmless.
Accidents happen!

The first aid tent at a larping event can be a very busy place, especially over a 24 hour period and encampments are involved in raids and skimishes, whilst most of our own universe sleeps.
It isn't just weapons that cause injury, the local environment in general can be a major cause of impact, cuts and falls.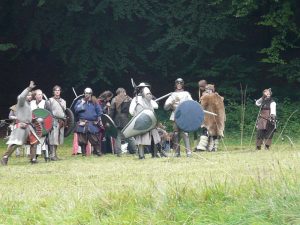 Most LARP events are conducted under the natural skies, so the only light at night is often from stars, to add to the risk of injury is that LARP arenas are woodlands and fields, this environment can result in injury. Poked in the eye by a twig or branch, ran into a tree trunk, tripped over a felled stump, slipped in a ditch these are commonplace incidents that require first aid at LARP events.
LARPing is a release mechanism for participants and for 2  or 3 days they can escape from their everyday lifestyle albeit police, IT, ambulance, factory workers, fire service, vicars, shop staff …you name it, and they really do throw themselves into the whole spirit and character of their persona.
LARP event first aid cover is about being part of the theme but not being part of it ….only a LARPer will understand this.
LARP first aiders are basically invisible until needed and even then, in a 'cloak of invisibility'.
The LARP first aid tent can often be a refuge, a place to get out of the hurly-burly, sometimes the 'character' pops in with an injury and may stay in their persona whilst the same person may be their everyday self, personality-wise but in full LARP garb.
As LARP event first aiders, we don't judge, we enjoy the theatre, please call us on 033333 92223 or email mail@1stAiders.co.uk
Save
Save