First aiders for sporting events in Hertfordshire, Bedfordshire, Buckinghamshire, Berkshire and North London, or within the M25.
When you need first aid cover for a sports event, whether it is one person, a single first aider or a team including paramedics, we can help.
All sport events differ and so do their associated levels of risk as well as your needs for a sporting event medic. Let's take a community or charity sports event, injuries may be none, few and far between where a single first aider can assess and treat on scene, if neccessary call an ambulance or direct to minor injuries unit. There may even be a greater demand for first aid from the audience where bites and stings, bumps and grazes might need basic treatment.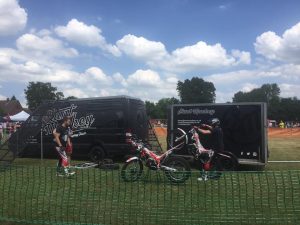 A larger fast moving sports event may need more than one first aid event medic, perhaps a team covering various posts and a central hub such as an ambulance, tent or medical room.
There may be a requirement for a QCC registered ambulance team to transport patients to A&E – we can help.
Whatever your sporting event first aid needs we are here to help.
1stAiders recently covered an event where 'Stunt Monkey'  a motorcycle stunt display team conducted some incredibly scary demonstrations.
Save